30. Juni 2021, 19:00 Schaumbad – Freies Atelierhaus Graz, 8020 Puchstrasse 41
Link to event https://schaumbad.mur.at/index.php/event/the-fragility-of-sounds-concert-night/ 

with Séverine Ballon, Pia Palme and the Ensemble Schallfeld and Irene Lehmann

Schallfeld ensemble:
Lorenzo Derinni, violin
Francesca Piccioni, viola
Myriam Garcia Fidalgo, violoncello
Margarethe Maierhofer-Lischka, double bass

Séverine Ballon, violoncello
Pia Palme, bass recorder in c

Irene Lehmann, discourse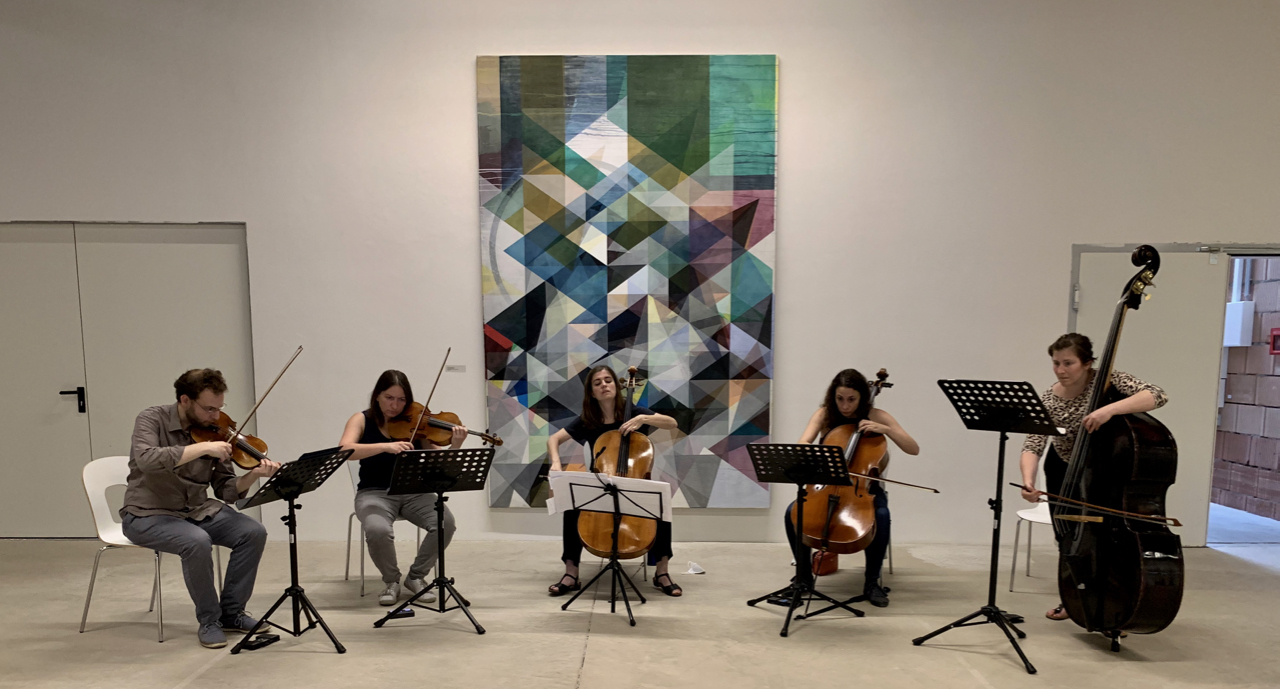 Programme

Séverine Ballon
Forêts intérieures (2018) for two violoncelli
Au travers des paupières closes (2020) [commissioned by Fragility of Sounds]
Version #2 for ensemble and Version #1 for cello solo

Pia Palme
WEITERUNG (2020/2021) for string ensemble (vl, vla, vcl I+II, db) and bass recorder, with a text by Palme

After the concert, theatre scholar Dr. Irene Lehmann will moderate an artist talk.
Musiktheater auf den Bühnen der Innenwelt / Music theatre on inner stages
Fotos @Pia Palme, from rehearsals and concert at Schaumbad Graz
The artwork in the background on stage is Irena Eden & Stijn Lernout o-T (300.200.20), 2020
On the floor: karin maria pfeifer _blueprint, 2021
Behind the audience: Gabi Mitterer QUHONES_2, 2021
Exhibition: Numbered, Weighed, Divided curated by flat1
An diesem Abend spielt die Cellistin und Komponistin Séverine Ballon gemeinsam mit dem Ensemble Schallfeld die Uraufführung ihres Stücks 'Au travers des paupières closes'. Zu hören sind weitere Arbeiten von Séverine Ballon und ein neues Stück der Komponistin und Performerin Pia Palme. Beide Künstlerinnen setzen in ihrer Musik gern innere Welten in Szene. Aus der Position der komponierenden Musikerin – oder musizierenden Komponistin – heraus verbinden Ballon und Palme individuelle Klangräume mit der Außenwelt. So entstehen auf einzigartige Weise Interferenzen und Resonanzen des Persönlichen mit der Umgebung: ein theatrales Ökosystem wird hörbar.

Das Konzert findet im Rahmen des Forschungsprojekts 'On the Fragility of Sounds' (2019 – 2021) statt und ist an der KUG Kunstuniversität Graz | FWF PEEK AR537 | Zentrum für Genderforschung verankert. Gefördert vom FWF Austrian Science Fund, von der Mariann-Stegmann Foundation und vom Land Steiermark.